To Inform is to Influence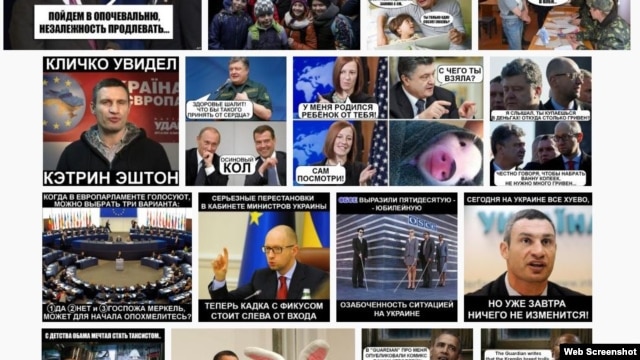 April 04, 2015
Ever wonder where the droves of Russian-language Internet trolls get those satirical graphics they deploy to smear Western and Ukrainian leaders? Turns out there's a website with a vast archive of images helping them pepper their posts with visual invective.
Britain's Guardian newspaper reported on April 2that the website with the Cyrillic address вштабе.рф("в штабе" translates from Russian as "in the headquarters") hosts thousands of these ready-made images for use by hundreds of paid trolls working for a secretive organization in St. Petersburg.
The images — mainly crude mash-ups or regular photographs touched up with sarcastic and juvenile captions — are largely aimed at heaping abuse on Western and Ukrainian officials or portraying Russian President Vladimir Putin as a suave alpha male of the international scene.
Many have racist overtones, like those that portray U.S. President Barack Obama as a monkey (bananas are a…
View original post 348 more words